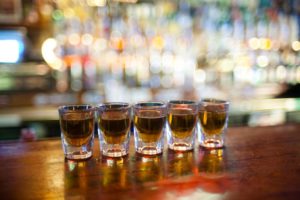 April is Alcohol Awareness Month which is intended to educate people and communities about the consequences of alcohol-related problems. There are over 18 million individuals or 8.5% of Americans who suffer from alcohol-use disorders. In addition, there are millions of individuals who experience the devastating effects of the alcohol problem of someone in their life. In fact, 25% of U.S. children are exposed to alcohol-use disorders in their family.
April 9th is National Alcohol Screening Day and an important part of Alcohol Awareness month. This day is intended to help individuals who may not know how much is too much to drink or if the amount that they drink is putting them at risk for injury, illness and addiction. Screening for Mental Health, Inc. was the first organization to introduce the concept of large-scale mental health screenings in 1991. These programs now include both in-person (mainly held at colleges and universities) and online screening programs (intended for the general public and military).
National Council on Alcoholism and Drug Dependence (NCADD) Alcohol Awareness Month, held every April, was founded by and has been sponsored by NCADD since 1987 to increase public awareness and understanding aimed at reducing the stigma that too often prevents individuals and families from seeking help.  During Alcohol Awareness Month, NCADD and NCADD's National Network of Affiliates reach out in communities across the country to bring the American public information about alcohol and alcoholism as a chronic, progressive disease, fatal if untreated, and genetically predisposed.  The disease of alcoholism is a family disease that is treatable, not a moral weakness, from which people can and do recover.
Alcohol Free Weekend
An integral part of NCADD Alcohol Awareness Month is Alcohol-Free Weekend, which takes place on the first weekend of April (April 6-8, 2012) to raise public awareness about the use of alcohol and how it may be affecting individuals, families, businesses and our communities.  During Alcohol-Free Weekend, NCADD extends an open invitation to all Americans to engage in three alcohol-free days. Any individual or family member who finds it difficult to get through the 72-hour experiment is urged to contact local NCADD Affiliates, Alcoholics Anonymous (AA) and Al-Anon Family Groups to learn more about alcoholism and its early symptoms.