Introduction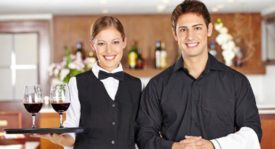 In 1987, Utah became the second state in the country to require training for all on-premise alcohol servers.  Ten states now have mandatory server training laws and six have voluntary programs. Training for the responsible service of alcohol was not the government's idea.
Before 1987, Utah's hospitality industry was already providing this training on a voluntary basis through programs developed by the National Restaurant Association and the American Hotel & Motel Association. The resulting legislation established a mandatory Alcohol Training and Education Seminar for employees of businesses that serve alcohol for consumption on the premises.
Why we are your Utah Alcohol Server Certification?
Approved by the Utah Department of Human Services
Recognized – by major employers, insurance firms and enforcement
Trusted – by over 500,000 sellers and servers from the industry
Interactive – you may actually enjoy learning our engaging material
Live 24×7 Support – for you night owls, our toll-free live help is always on
Who has to take the seminar?
Every individual who is employed to:
[A] sell or furnish alcoholic beverages to consumers for consumption on the premises, or
[B] manage or supervise the service of alcoholic beverages; must complete an Alcohol Server Training and Education Seminar. Alcohol servers, managers, and supervisors must take and pass the seminar every three years. Persons holding an ownership interest in an on-premise licensed establishment must also take the seminar if they perform duties as a manager, supervisor, or server.
What Students Learn
The subjects taught in the seminar include:
[A] Alcohol as a drug and its effects on the body and behavior.
[B] Recognition of the problem drinker.
[C] An overview of Utah alcohol laws.
[D] Dealing with problem customers.
[E] Discussing alternative means of transportation for customers who need help safely arriving at home. When must the class be taken? Managers, supervisors, and servers must complete the training within 30 days of commencing employment.
How is the class taught?
The Utah Division of Substance Abuse administers the program by certifying training programs (providers). The Division is responsible for evaluating and approving seminar programs that teach the responsible service of alcohol. Neither the Department of Alcoholic Beverage Control nor the Division of Substance Abuse teach, schedule or register participants for the seminar. Providers are private trainers who schedule their own classes, have their own enrollment policies, and set their own fees. To take a class, you must deal directly with the provider. Providers charge each student a fee for the program. Fees vary, and are determined by the provider.
Liquor Liability Insurance
All businesses involved in the sale or distribution of alcoholic spirits need liquor liability insurance to protect themselves against loss or damage claims resulting from the actions of an intoxicated patron. Although the threshold between sobriety and intoxication varies from person to person, the alcohol server and his/her employer may still be held accountable for any harm caused by overindulging patrons to themselves and others.
Discounts are offered to establishments who have properly trained staff to serve or sell alcohol. That is why more and more business owners prefer to hire individuals who hold a Responsible Beverage Server Training Certification.